When Modi became PM Modi in 2014 by winning Lok Sabha election with massive votes & seats all over the India.
PM Modi come up with a strong message: "We are not here for any positions but for a responsibility". From bureaucrats to MPs, everyone started working seriously. Be it strengthening foreign policy or launching welfare schemes for low-income group, team Modi has been working passionately hard to justice people's vote and expectations.
Now, here is the top 10 Major steps taken by PM Modi
ECONOMIC REFORMS & POLICY IMPLEMENTATION
FOREIGN POLICY PUT ON FAST-TRACK MODE
TOURISM TOBE PUSHED
IMPLEMENTATION OF NEIGHBOURHOOD FIRST POLICY
CAMPAIGN FOR BUILDING TOILETS
IMPROVEMENT IN KASHMIR
1. MAKE IN INDIA

To increase investment, gear-up research & development (R&D), trusted product originality and grow skill-based jobs by establishing industrial sector; many national programme was started by Narendra Modi. Modi has traveled all over the world with his visionary idea of 'Make in India' and it has given positive feedback from foreign companies. Reformation of Major Labour Law is in the schedule will increase manufacturing industry and foreign investment in India.
Read more about Modi's 'Make in India'
2. SWACHH BHARAT ABHYAN
Swachh Bharat Abhiyan was started on Mahatma Ghandhi Jayanti 2 Oct 2014 by PM Modi. Cleanliness is considered one of the crucial problems in India and PM Modi gave it a most importance by starting Swachh Bharat Abhiyan campaign across the India. Many citizens of India considered it a masterstroke from PM Modi as it put him at par with Mahatma Gandhi in public perception and also gave people the message to act on hygiene and civic sense. PM Modi nominated well known personalities from Bollywood, sports, media, business and other celebrities through social media like Twitter & Facebook to promote the initiative.
Read more about Swachh Bharat Abhiyan
3. CREATION OF NITI AAYOG TO REPLACE PLANNING COMMISSION
On 1 Jan 2015, Modi formed National Institution of Transforming India (NITI) Aayog, which is a policy developer of Government of India that replaced Planning Commission. The panel was abolished along with GOMs and EGOMs which caused policy damaged and corruption under UPA Government. NITI Aayog is handled by PM Modi and its members are top-notch economists, consultants and advisers along the lines of US think-tanks.
Read more about PM Modi's NITI Aayog
4. JAN DHAN YOJANA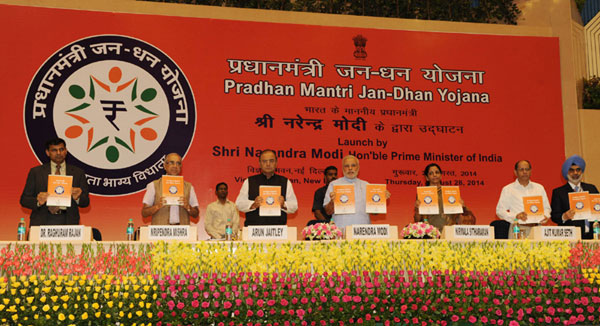 On 15 August 2014, Modi announced Jan Dhan Yojana. More than 15 crore bank accounts were opened in just a year. Main aim has been on reaching every household to provide Banking facility, pension and insurance to account holders.
Read more about Jan Dhan Yojana
5. ECONOMIC REFORMS & POLICY IMPLEMENTATION
Modi-led NDA government's main mission is to accelerate Indian economy by reformation in manufacturing and export sector. Government has not only increased the limits of FDI in Railways, Insurance and Defence but also encouraged privatisation of loss-making public sector companies. Without being bogged down by coalition partners, Modi persisted with his aim on transformation. On the infrastructure first, government has already started work on connecting major metros under Diamond Quadrilateral rail corridor project. Major reforms and developments are under process for PM Modi's dream projects: 100 Smart Cities and Clean Ganga Mission.
6. FOREIGN POLICY PUT ON FAST-TRACK MODE
PM Modi's foreign policy is currently focussed on improving relations with neighbouring countries and convincing the world to invest in India. In the US, he met Top American business leaders and encouraged them to be a part of Make in India programme. During his recent visit to France, he urged Airbus, the aerospace leader, to set up manufacturing in India. While in Germany, he gave a strong message for the Make in India initiative. He has been trying to deliver the message of a more "competitive, confident and secure" India.
7. TOURISM TOBE PUSHED
Tourism has been mainly focused in the government's action plan. Its main target has been to make India a world class travel country. In last one year, the visa system underwent a major revamp. Initiative of visa-on-arrival system for all leading countries was an important step in this leadership. Moreover, Notable increase has been reportedly observed in the number of foreign tourist arrivals after the Modi government came to power.
8. IMPLEMENTATION OF NEIGHBOURHOOD FIRST POLICY
One of the important policy initiatives taken by PM Modi government was to actively focus on improving ties with immediate neighbours. Inviting all leader of SAARC nations to Modi's swearing-in ceremony was an excellent and smart move by Modi as a Prime Minister. It gave straight and clear message to the World that no one does swearing-in in Asia like we do. It was the first diplomatic victory for Modi and India started taking itself seriously again.
9. CAMPAIGN FOR BUILDING TOILETS
PM Modi has started working on a huge project to facilitate 10 crore toilets by 2019 at a storm speed of one toilet per second. Modi encouraged corporate sector for contribution in this Clean India Mission. Positive response has come from IT giant TCS and they have confirms to build 10,000 toilets in girls' schools across the country. An enormous fund of 100 crore has been provisioned for this cause. Oriental Bank of Commerce has announced contribution of 2 crore for building toilets. Bharti Foundation, Adani Group, Reliance Group and Vedanta Group have also pledged support for the campaign and contributed significantly.
10. IMPROVEMENT IN KASHMIR
Kashmir is an essential part of India but has a long list of complaints against previous UPA governments – both Centre and state. When the flood created devastations in the valley, response from Modi government was immediate and active to help them. PM Modi dedicated constant monitoring system for flood affected & Damaged areas and citizen of Kashmir. He also announced to celebrate Deepawali with Kashmir flood survivors. Even his critics praised his move. After a long time an Indian politician managed to establish a connect with the Kashmiri people.
Also Don't Forget to Read About :
1. 7 things to know about Jan Dhan Yojana
2. Things to know about Modi 's ' Make in India '
3. 7 things to know about Swachh Bharat Abhiyan
4. 10 things about PM Modi's NITI Aayog