On 15 August 2014, PM Modi announced Jan Dhan Yojana.
More than 15 crore bank accounts were opened under Jan Dhan Yojana in just a year. Main aim has been on reaching every household to provide Banking facility, pension and insurance to account holders.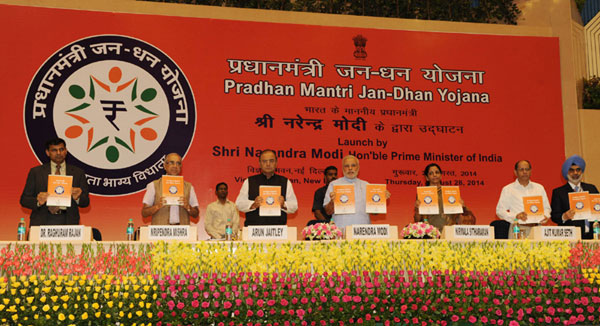 Here is the 7 things to know about Jan Dhan Yojana:
1. The Jan Dhan Yojana gives benefits to both urban and rural areas of India. All bank accounts will be linked to a debit card which would be issued under the Ru-Pay scheme.
2. Under this program, every citizen who opens a bank account becomes eligible to receive an accident insurance cover of up-to Rs 1 Lakh for his entire family.
3. A person who is already holding a bank account with any bank across India need not open a separate account under this program. He/she will just have to get issued a RuPay Card in his existing account to get benefit of accidental insurance.
Also read: Important things about Swachh Bharat Abhiyan
4. Accidental Insurance coverage under this program: Accidental insurance of Rs 1 lakh is available to all RuPay card holders in the age group of 18-70 where transaction of any amount should be made with RuPay card once in 45 days of receipt.
5. Life Insurance coverage under this program. Only one person in the family will be covered and in case of the person holding more than one cards/accounts, the benefit will be allowed only under one card i.e. one person per family will get a single cover of Rs 30,000. The claim of Rs 30,000/- is payable to the nominee(s) of account holder who need to submit necessary documents to the Nodal Branch of the concerned  Bank.
Also read: Things to know about Modi 's ' Make in India '
6. Once the bank account has been active for 6 months and linked to Aadhar card, the person would become eligible for an overdraft of up to Rs 2,500 which would further be enhanced by the bank to Rs 5000 over time.
7. The program also offers incentives to business and banking correspondents who serve as link for the last mile between savings account holders and the bank by fixing a minimum monthly remuneration of Rs 5000.
Here is the video of PM Modi launches 'Pradhan Mantri Jan-Dhan Yojana'
Also Don't Forget to Read About :
1. Top 10 Mejor Steps Taken By PM Modi

2. Things to know about Modi 's ' Make in India '
3. 7 things to know about Swachh Bharat Abhiyan
4. 10 things about PM Modi's NITI Aayog